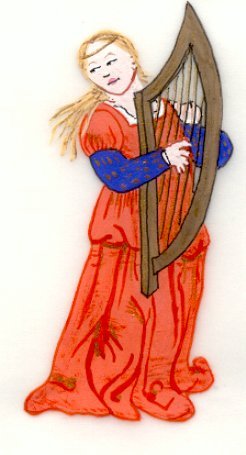 Bardic Madness XIII
Saturday, February 22, 2003
Folklore Village Farm, 3210 County Hwy. BB, Dodgeville, WI 53533
Hosted by the Barony of Jararvellir
Site hours: 9:30 am to 11:00 pm
Site fee: $6, feast: $7. As per society rules, a $3 non-member surcharge will be applied to non-members. Please bring blue card or current issue of the Pale or your Kingdom's newsletter.
To preregister for site and/or feast, contact the Head Porter.
For questions about the feast or dietary concerns, please contact the feast steward.
Site is wet.
Please join us for the thirteenth annual Bardic Madness, a day of bardic merriment, with challenges to pique the interest of the most experienced bard, as well as the newest performer!
All bardic and musical activities are welcome as reponses to the challenges: song, story, poetry, mime, juggling, instrumental or choral music, drama, artistic or dance, etc. Challenges are not competitions - everyone who takes part can consider themselves a winner. Even if you don't perform, come to support your friends with applause, and stay for the delicious feast, classes, and performances.
This year, Leif Haakonson (known as Leif Gray Fox) and Astrid of the Yellow Rose, Heirs to the Stellar Thrones of the Northshield, will be honoring Bardic Madness with Their presence. Regency Court will be at Their pleasure (currently planned for late afternoon, after Fyt the Fourth).
Lunch information:
Lunch will be $3, payable at the event. Menu will be cold meats (ham and turkey), cheeses, seasonal fruits, fresh bread (baked on site!), dessert to be determined, and cold beverages (lemonade and sekanjabin).
Feast information:
Feast will be limited to the first 96 paid reservations. There will be off-board seating for those who do not wish to eat feast, but would like to stay for the challenges during feast.
Course the first (on the table):
Breads
Cheese
Spinach balls
Hedgehogs
Fresh & dried fruits
Flavored butters (orange, spiced honey, and garlic-herb)
Syrups of Limon and Sekanjabin (so feasters may mix their own to taste)
Course the second:
Fricacee of chicken
Barley pilaf
Soops of buttered carrots
Raspberry syllabub
Shortbreads
Course the third:
Stewed fillets of beef
Savory toasted cheese with broccoli
Darioles and other small tarts or cakes
Event staff:
Questions about the schedule, classes, challenges, or philosophy behind Bardic Madness: contact the Provost, Lady Eliane Halevy (mka Jennifer Friedman), jfriedmn@pressenter.com, (608) 788-8781.
Send reservations to Head Porter: Lady Kathryn Fletcher of Shrewsbury (mka Kathy Johnson), mohawk5@chorus.net, (608) 273-3395. Address: 5 Mohawk Circle Madison, WI 53711.
For information on feast, or for special dietary concerns, contact the Feast Steward, Viscountess Elashava bas Riva (mka Sue Gilbert) e-mail: sggilber@wisc.edu
For lunch-related questions or to volunteer to assist with lunch, contact the Lunch Coordinator: Lady Marion of Jararvellir (mka Jean Hetzel), (608) 241-3849, jshetzel@students.wisc.edu.
To offer or obtain crash space, please contact the Crash Space Coordinator, Lady Marian Elizabeth Wollenschlager (mka Mary Hoffman), mhoffman@edgewood.edu, (608) 846-0859 (please call before 10pm cst).
Questions about the site, merchanting, directions, or other logistics: contact the Site Stewards, Master John Chandler (mka Aaron Pavao), (608) 827-5820, aaron@fief.org, or Lord Heinrich von Stuttgart (mka Andrew Shallue), (608) 251-1849, shallue@math.wisc.edu.
Our event Royalty Liaison is Signora Iohanna Carracci (A. Rebekah Turner), (608) 241-3849, rturner@library.wisc.edu.
Directions:
Folklore Village is in rural southwest Wisconsin, 35 minutes west of Madison and six miles east of Dodgeville. Take Highway 18/151 to County Highway BB, then turn south onto BB. The site is ½ mile south of the intersection of 18/151 and County BB. The address is 3210 County BB, and the drive is on the west side of BB.
---
Bardic College main page | Charter of the college | History of the college | Bardic Madness XIII (Feb. 22, 2003)
---
This page last modified February 17, 2003 by Eliane Halevy. Yes, Eliane painted the Tudor Harping Lady. No, there were no visible supports for the harp in the original illumination either. It's a painting. The laws of physics don't hold sway in paintings.

This is part of the recognized website for the Northshield Bardic College of the Principality of Northshield, Midrealm, Society for Creative Anachronism, Inc. It is not an official publication of the SCA, Inc. and does not delineate SCA policies. In cases of conflict of material presented on this page or its links, any disputes will be decided in favor of the printed version.